meximas
dramatis personae
ALEX                    Short and overly confident, with a
                        predilection for peacockery. An anal
                        control freak, but constantly claims
                        otherwise. Classic Napoleonic
                        overcompensation complex.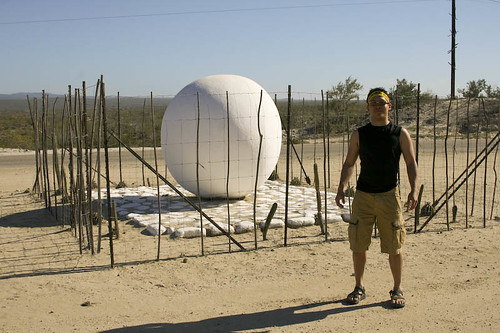 JESS                    Tallest character by far. Physical
                        movements often wildly exaggerated and
                        performed with rapid velocity. Always
                        wearing the same outfit (brown hoodie
                        and khaki pants) but underneath are
                        multiple layers of various clothes,
                        constantly changing.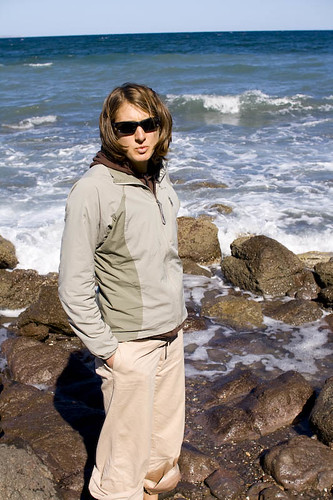 EL PODEROSO             A recent model Chevy C2 with the
                        "Comfort" trim level. Frail looking
                        but courageous, fancies himself the
                        modern reincarnation of Che. Starts
                        off wearing an immaculate white
                        jacket, white pants, and white
                        ostrich-skin boots.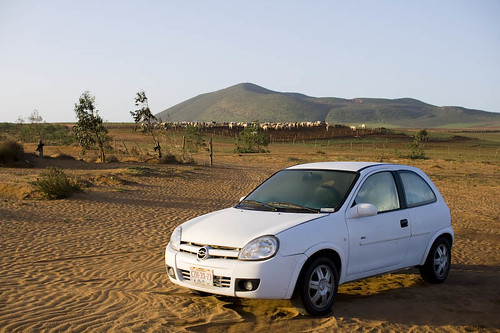 EL IPODITO              Short and squatty, wearing an outfit
                        exactly the opposite of EL PODEROSO;
                        his boots are black caiman. Possesses
                        an inordinately loud singing voice.

EL PEE                  Lonely Planet guidebook, dressed like
                        Ask Jeeves butler (although the tux
                        starts off slightly frayed and by the
                        end is completely tattered and in
                        shambles), always at the ready with
                        wacky irreverent quips and useless
                        maps.

RAYMOND                 Indie-rocker-Asian-playboy-member-of-
                        the-Chinese-mafia-slightly-rough-around-
                        the-edges-but-in-an-endearing-way-not-
                        uncouth-way-mildly-hyperactive type of guy.

MARISCOS                Various delicious looking creatures
                        from the sea.

LA POLICIA              Gruff looking and squat. Wearing Gap
                        hoodies and large guns.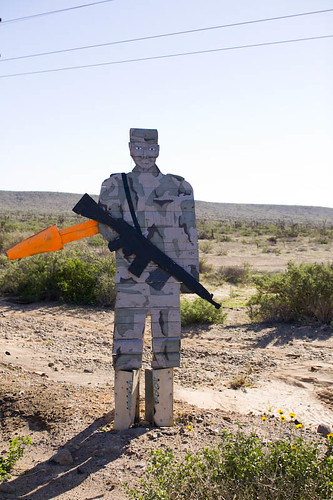 RABID WOLVERINES        Raucous, prone to violence; reside in both
                        ALEX'S and JESS' stomachs.

JOHN MAYER              Curly haired, somewhat effete looking.

Act I
                        ACT I

                        SCENE 1

                        (Early winter; ALEX and JESS sitting
                        at a table, piles of bloody elk bones,
                        empty wine bottles, and a giant
                        buffalo head litter the scene.)

                        JESS
I'm freezing!

                        ALEX
How many layers are you wearing?

                        JESS
Not that many. A short sleeve polypro, a long sleeve polypro,
my New Belgium fleece, this sweet vintage 1940s wool ski
sweater, the wind jacket that makes me look really fast, my
favorite brown hoodie, and of course my faux leather jacket
with faux fur trim. Not many layers at all.

                        ALEX
What are you doing for winter break? Maybe a trip somewhere
warm is in order.  Let's check the internets and look for some
BOGOs, eh?

                (In one motion, pulls laptop out of pants,
                simultaneously opens 32 tabs in Firefox to
                various discount air travel sites, evaluates
                screen for 2 seconds, snaps lid back shut,
                shoves laptop back into pants.)

Done. Looks like we're going on a road trip down the Baja
peninsula.

                        JESS
Isn't that over 2100 miles of driving in nine days? A little
much, don't you think?

                        ALEX
Ok, everything's all booked. Pick you up on Christmas!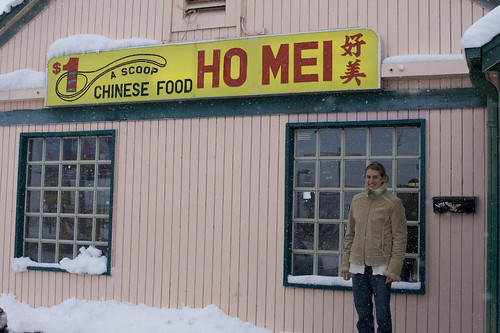 SCENE 2

                        (Raymond's swanky beachfront house)

                        RAYMOND 
Glad you made it! You hungry? I hope so! I prepared a food!
It's crazy!     
                
                        JESS
I'm starving! I do feel a little funny after eating at that $1
per scoop Chinese food place, but... let's eat!

                        ALEX
At least that place was a good value.

                (RABID WOLVERINES take temporary break from
                boxing match, excited by the prospect of more
                food.)  

                        RAYMOND
Ok! I didn't have time prepare much, so hope this enough! Only
five kinds meat! No fish! Have shrimp though! That's crazy!

                (Presses hidden button, walls rotate revealing
                walk-in wine cellar and silent disdainful Euro
                in full tuxedo and tails standing in corner,
                walk-in cigar humidor with autographed
                portrait of Fidel Castro on wall, walk-in keg
                styled after the San Diego aquarium where you
                get to walk in tubes underneath the fake ocean
                to watch sharks and manta rays swimming
                around.

                Solid teak dining table flips upside-down,
                replaced by solid cube of stainless steel the
                size of Mack truck engine block.

                RAYMOND casually flips 2-inch thick filets
                onto one half of cube, which immediately start
                sizzing; grabs octagonal container of pure
                cream, sugar, and free trade vanilla essence
                extracted by virgins only on nights with a new
                moon, gives three sharp shakes, empties
                contents perfectly onto other half of cube
                where it quickly freezes into ice cream.)
                
Next week, I go to Macao! Check my casino! You eat more! Ok?
One time I went to New Zealand and it so boring! Everything
close at 8pm! Awful! You drive all the way to Cabo? That's
crazy! I scared to do that!
                
                (ALEX and JESS overwhelmed by generosity and
                opulence. Dutifully eat when commanded,
                respond with grunts and nods to indicate to
                RAYMOND they are listening.
                
                RABID WOLVERINE #1 has a pile of light bulbs
                at feet; fast pitches them to RABID WOLVERINE
                #2 who gleefully hits them with a bat. Both
                cackle wildly and give the British sign of
                extreme rudeness, V for victory sign with
                first two fingers, palm facing in, hand
                gestured vigorously upwards. Resume lightbulb
                baseball.

                ALEX and JESS clutch stomachs and stagger to
                bed.)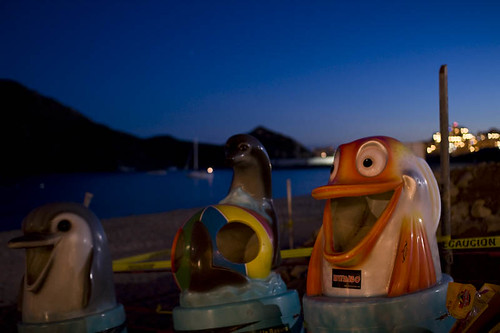 SCENE 3

                        (Tijuana. Hot. Loud. ALEX and JESS
                        each carrying gigantic backpacks. ALEX
                        has latest high-tech space-age pack
                        made out of the future and magic.
                        JESS carries a lumpy, WWI original
                        Army surplus gunnysack.)

                        ALEX
Man, that was awful nice of Raymond to drop us off at the
border. Look at all these stores selling Viagra and Cialis.
It's like walking through my spam mailbox!

                        JESS
I want some fish tacos!
                
                (MARISCOS eye each other and JESS nervously)
                
                        ALEX
Maybe we ought to find EL PODEROSO first...
                        
                (JESS suddenly lunges at MARISCOS, waving
                hands wildly.
                        
                MARISCOS scatter, squealing. 
                        
                ALEX grabs JESS' lumpysack and restrains her;
                the gentle tug sends her tumbling backwards.)

Alright, seriously, we really ought to find EL PODEROSO. I
think he's just a few blocks away now...

                        JESS 
How far?
                        
                        ALEX
What do you think, EL PEE?

                        EL PEE
North Revolucion is the seedy, steamy side of TJ, as it's
affectionately referred to by gringos. Tread here with
caution, and avoid the store fronts with the donkeys out
front.

                (Pulls out a map of London)

15 quatloos to a dram, I'd say. Maybe 37 blocks East by
South-Northwest, then 15 blocks around this traffic circle.
Oh, maybe you want to be on that spot in the crease.

                        ALEX
That's a raisin.

                        JESS
Did someone mention food?

                (RABID WOLVERINES grow dizzy with delight,
                resume rolling each other down hill in metal
                garbage can into a pile of accordians.)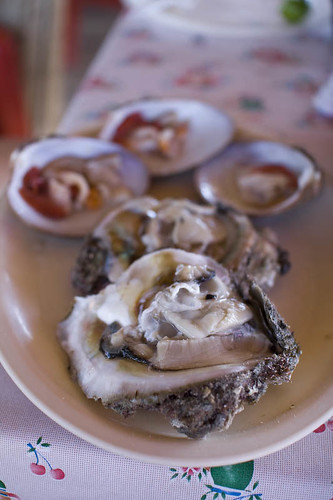 EL PEE 
This place sounds pretty famous. Not really sure how to get
there though.

                (Points to spot on map labelled "Legend")
                
                        JESS
Forget it. Let's go.

                (Walks vigorously away, staggering under
                weight of lumpsack.
                        
                ALEX struggles to catch up.

                The two walk aimlessly for hours; EL PEE
                occasionally pulls out the London map, old
                ticket stubs, dirty kleenex, and attempts to
                triangulate against the setting sun.)

                        ALEX
I give up.

                (Waves at a cab, gesticulates wildly at
                cabbie, collapses in back seat. JESS follows.

                Cab drives a half block, pulls back over, ALEX
                and JESS get out. ALEX hands cabbie giant wad
                of fake money.

                EL PODEROSO leaning casually against street
                lamp, grinning wickedly, top hat tilted at
                rakish angle.)

                        ALEX
Hola!

                        JESS
Holla!
               
                        EL PODEROSO
They call me "the powerful one".

                        JESS
You're five foot nothing. 
                
                        EL PODEROSO
I have a strong spirit, a pure heart, great skin, and a
Comfort package. Perhaps one day, I shall visit your country
and sleep with your women. Viva la revolucion!

                (ALEX and JESS look at each other, shrug. Toss
                giant packs to EL PODEROSO. Give each other
                high fives.)

                        ALEX
Meximas!

                        JESS
MEXIMAS!

                (EL PODEROSO teeters, totters, catches
                himself. Proudly leads ALEX and JESS off
                stage.)

                        EL IPODITO

                (Follows trio offstage, singing loudly)

In the day we sweat it out in the streets of a runaway american dream
At night we ride through mansions of glory in suicide machines
Sprung from cages out on highway 9,
Chrome wheeled, fuel injected and steppin out over the line
Baby this town rips the bones from your back
Its a death trap, its a suicide rap
We gotta get out while were young
`cause tramps like us, baby we were born to run

                (Curtain drops)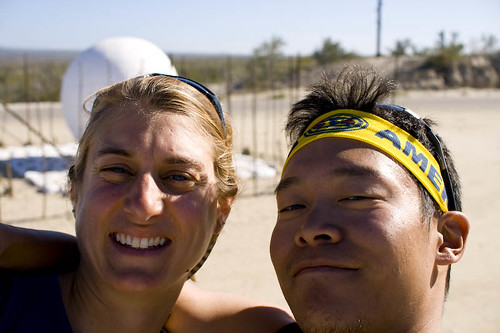 Act II
                        ACT II

                        SCENE 1

                        (Vast expanse of desert. 50 ft. tall
                        saguaros and cirio trees reach
                        haphazardly into sky. Mountainous.
                        Coastal.

                        EL PODEROSO, wheezing and panting
                        slightly, trudges dutifully on with
                        ALEX and JESS in tow.)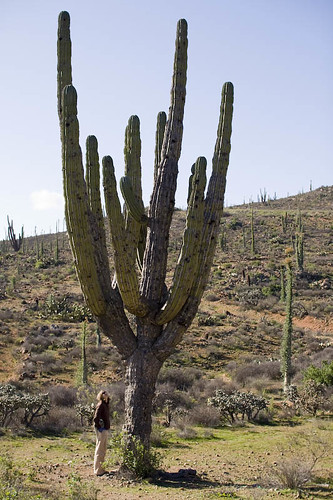 JESS
You are really going overboard with these moisturizing
products.

                        ALEX
I like the smell of chocolate.

                        JESS
Don't you mean cocoa butter?

                        ALEX
Whatever.

                        JESS
That's not even good for you. Look at all the mineral oil in
there! You should be using these amazing Arbonne products
instead. Look, Arbonne not-so-basic skin care (tm) for your,
um, basic needs, Arbonne Intelligence Specialty (tm) to meet
your unique needs of rejuvenating and conditioning, and of
course, NutriMinC RE^9 (tm), the first and only anti-aging
system to use Nanosphere Technology that uses 9
REsult-oriented elements to combat the visual signs of aging!

Plus, if I sell you $5000 of product, and then you sell $5000
of product, then I get $20!

                        ALEX
What happens to the other $4980?

                        JESS
I have to give it back to Arbonne. Don't you know how
multi-level marketing works? I thought you were supposed to be
smart.

                        ALEX
Aren't you just describing a pyramid scheme?

                        JESS
Whatever.
                        
                        ALEX
Well, since we're on the topic of personal hygiene habits,
maybe you ought to consider a deodorant other than Old Spice.
                        
                        JESS
I like the way it smells!
                        
                        ALEX
Well, yeah, but I don't think it's really working anymore.
                
                (Crinkles nose)
                        
                        JESS
Really?
                        
                        ALEX
I heard your body just gets used to the same deodorant after a
while and you have to switch it up every so often.
                        
                        JESS
What sense does that make?
                        
                        ALEX
I don't know. We'll have to ask wikipedia when we get back.
                
                (RABID WOLVERINES, EL PODEROSO, EL IPODITO,
                and LP in various stages of fitful sleep
                induced from the sheer and utter mundanity of
                road trip conversation.)
                        
                        ALEX
Oh man, that reminds me of this one time at band camp, when I
played the euphonium...
                        
                        EL IPODITO
                
                (Belting at top of lungs to drown out inanity)

Well I don't know why I came here tonight,
I got the feeling that something ain't right,
I'm so scared in case I fall off my chair,
And I'm wondering how I'll get down the stairs,
Clowns to the left of me, 
Jokers to the right, here I am,
Stuck in the middle with you.


                        SCENE 2

                        (Cabo Wabo aka Sammy Hagar's shrine by
                        himself, for himself. Early evening.
                        House band is rocking tunes familiar
                        to and appreciated by the older
                        crowd.)

                        WAITER
Need anything?

                        JESS
Any early bird specials? Buddy over here just turned one year
closer to death and thought we should go to the bars at
4:30pm.

                        ALEX
Dude! First, it's 8:30, and second, you were psyched to get a
table.

                        JESS
You're not the wrecking ball you once were.

                        ALEX
Trust me, this is better.

                        JESS
You wanna know how I know you're old? You know who Sammy Hagar
is and you want to go to his bar at 3pm.

                        WAITER
Need anything?

                        ALEX
Dos waboritas, por favor.

                        WAITER
Coming right up, buddy. Wanna know how I know you're old? You
just ordered a blue drink and have no idea how gay that is.

                        ALEX
Oh, so everybody thinks they're Seth Rogen now, do they? Just
bring the margs, dammit.

                (RABID WOLVERINES howl at the prospect of
                alcohol, and the way it's going to enhance
                their game of "what's the sharpest?")

                        ALEX
Are those guys rocking Bon Jovi right now? We must drink from
the chalice of rock with them immediately!
                        
                        JESS
You wanna know how I know you're old? You think it's still
bitchin' to listen to Bon Jovi in your Camaro.
                        
                (ALEX and JESS bust out bitchin' dance moves)
                        
                        ALEX
Who's that pompous and shaggy looking guy on stage?
                        
                        JESS
He can't take a shot, that's for sure. Hey! Why don't you
learn how to drink, nancy pants!

                        JOHN MAYER
Oh, um, hi everybody. It's great to be here tonight. 

                        JESS
Sally can't drink! Get off the stage! Get a hair cut!

                        HOUSE BAND SINGER
Everyone give it up for JOHN MAYER!

                (JOHN MAYER launches into a virtuoso
                performance of Sweet Child O' Mine.)

                        JESS 
OMG! That's JOHN MAYER!
                        
                (JESS swoons.)

Your body's a wonderland! All I need is a water and a fish
taco, and I can go all night.

                (JESS removes several layers to throw them on
                stage, thinks better of it, puts them back on,
                grabs one of the panicked MARISCOS.

                ALEX arches eyebrow.)

                        JOHN MAYER
'Cause the walls start shaking
The earth was quaking
My mind was aching
And we were makin it and you -

Shook me all night long
Yeah you shook me all night long


                        SCENE 3

                        (Evening. ALEX and JESS walking back
                        to hostel after getting rocked by JOHN
                        MAYER, some getting more rocked than
                        others.)

                        ALEX
You know, we just left EL PODEROSO on the street. Maybe we
ought to check up on him...

                (EL PODEROSO leaning against street lamp,
                white suit starting to look a little raggedy
                after all the hard travel.)

                        ALEX
How you doin' buddy? Holding up ok?

                (ALEX shines light into EL PODEROSO'S eyes,
                kicks his shins, gives pat on the ass.)

                        ALEX
Looking good buddy! We'll catch ya tomorrow!

                (LA POLICIA comes screeching around the
                corner.

                Following conversation entirely in Spanish and
                the international language of hand gestures.

                JESS stands still, confused, scared.)

                        LA POLICIA
What are you doing?

                        ALEX
Who are you? Nice Gap hoodie.

                        LA POLICIA
You ever been to a Mexican prison?

                        ALEX
Oh, sorry officer! Didn't see those large guns of yours! I
was, uh, just checking up on my friend here! He's doing great,
I assure you!

                (EL PODEROSO smirks silently.)

                        LA POLICIA
Where did he come from? 

                        ALEX
TJ.                     
                        
                        LA POLICIA
Aye yi yi. Why do all you stupid gringos insist on calling it
that? Anyhow, where are your papers?

                        ALEX
They're um... back at the hotel?
                
                        LA POLICIA
You trying to be difficult?

                        ALEX

                (Gesticulating wildly)
                
No sir! Whatever you want, I'll do it for you! No problem
here!
                        
                        LA POLICIA 
Where you from? Retardlandia?
                
                        ALEX
Yes! The United States!
                
                        LA POLICIA
You had anything to drink tonight?
                
                        ALEX
Just a few of those blue drinks, officer.

                        LA POLICIA
You wanna know how I know you're going to jail?

                        ALEX
Waitwaitwaitwaitwaitwaitaminute ossifer, just tell me what
you want. JESS, give him a fish taco!

                (JESS stands frozen.

                LA POLICIA grow visibly bored.
             
                MARISCOS are agitated.

                RABID WOLVERINES oblivious; continue pushing
                each other into bubbling hot tub filled with
                bacon grease, lighting each other on fire.)

                        LA POLICIA
You're going to bed now, right?

                        ALEX
Yes sir, straightaway!

                (ALEX and JESS exit stage left.)

                        LA POLICIA
Stupid gringos.

                (Grin at each other, exit stage right.)

                (Curtain drops)

Act III
                        ACT III 

                        SCENE 1

                        (New Year's Eve. The beach.)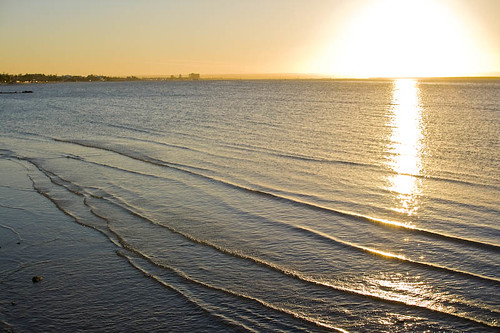 EL IPODITO
Haggerties and swamies
Pacific Palisades       
San Anofree and sunset
Redondo Beach L.A.
All over La Jolla       
At Waimia Bay

Everybody's gone surfin
Surfin U.S.A.
                        
                        JESS
Aaahhhh! Swimming in the Pacific! I've been waiting for this
moment all trip! I can go home happy now!

                        ALEX
All I want to do is ride a mantra ray.

                        JESS
That is just ridiculous. Shut up.

                        ALEX
You want to know what's ridiculous? Look at these stupid
signs. I'm not going to let some stupid sign tell me what to
do!

                (Points at sign on beach that says, "CAUTION!
                PELIGROSO! DO NOT TOUCH THE OCEAN! DANGEROUS
                RIP TIDES WILL DRAG YOU OUT AND YOU WILL DIE!
                SERIOUSLY, YOU ARE STUPID!")

                        ALEX
Whatever.

                (Stands in surf, makes rude gesture towards
                ocean. Water reaches toe-level. ALEX panicked,
                visibly getting sucked into ocean, fights with
                all strength to crawl back onto beach.)

                        ALEX
We shouldn't go in. It's, erm, really cold. You would hate it.

                        JESS
No matter. I'm getting tired anyhow. I think I'm going to bed.
I'm not going to let some stupid clock tell me when it's
midnight. As far as I'm concerned, New Year's was last night.
That JOHN MAYER, he's somewhat effete-looking, but last night,
in bed, I achieved total consciousness. So I had that going
for me, which was nice.

                        ALEX
You wanna know how I know you're lame? You were seduced by
some guy whose lyrics include:

                One mile to every inch of
                Your skin like porcelain
                One pair of candy lips and
                Your bubblegum tongue

He's nowhere near as good as Coldplay.

                        JESS
Oh, you mean the band whose chorus goes:

                I came along
                I wrote a song for you
                And all the things you do
                And it was called yellow

You ever thought about writing scripts? Judd Apatow would love
you. You know, if you were funnier. And talented. And better
looking. Yeah, definitely need to be better looking.

Anyway, I'm going to bed.

                        ALEX
It's 8 pm!

                        JESS
ZZZZZZZZZZZZZZZZZZZZZZ. ZZZZZZZZZZZZZZZZZZZZ. ZZZZZZZZZZZZZ.
ZZZZZZZZZZZZZZZZZZZZZZZZZZZZZZZZZZZZZZZZZZZZZZZZZZZZZZZZZZZZ
ZZZZZZZZZZZZZZZZZZZZZZZZZZZZZZZZZZZZZZZZZZZZZZZZZZZZZZZZZZZZ
ZZZZZZZZZZZZZZZZZZZZZZZZZZZZZZZZZZZZZZZZZZZZZZZZZZZZZZZZZZZZ
ZZZZZZZZZZZZZZZZZZZZZZZZZZZZZZZZZZZZZZZZZZZZZZZZZZZZZZZZZZZZ
ZZZZZZZZZZZZZZZZZZZZZZZZZZZZZZZZZZZZZZZZZZZZZZZZZZZZZZZZZZZZ
ZZZZZZZZZZZZZZZZZZZZZZZZZZZZZZZZZZZZZZZZZZZZZZZZZZZZZZZZZZZZ
ZZZZZZZZZZZZZZZZZZZZZZZZZZZZZZZZZZZZZZZZZZZZZZZZZZZZZZZZZZZZ
ZZZZZZZZZZZZZZZZZZZZZZZZZZZZZZZZZZZZZZZZZZZZZZZZZZZZZZZZZZZZ
ZZZZZZZZZZZZZZZZZZZZZZZZZZZZZZZZZZZZZZZZZZZZZZZZZZZZZZZZZZZZ
ZZZZZZZZZZZZZZZZZZZZZZZZZZZZZZZZZZZZZZZZZZZZZZZZZZZZZZZZZZZZ
ZZZZZZZZZZZZZZZZZZZZZZZZZZZZZZZZZZZZZZZZZZZZZZZZZZZZZZZZZZZZ
ZZZZZZZZZZZZZZZZZZZZZZZZZZZZZZZZZZZZZZZZZZZZZZZZZZZZZZZZZZZZ
ZZZZZZZZZZZZZZZZZZZZZZZZZZZZZZZZZZZZZZZZZZZZZZZZZZZZZZZZZZZZ
ZZZZZZZZZZZZZZZZZZZZZZZZZZZZZZZZZZZZZZZZZZZZZZZZZZZZZZZZZZZZ
ZZZZZZZZZZZZZZZZZZZZZZZZZZZZZZZZZZZZZZZZZZZZZZZZZZZZZZZZZZZZ
ZZZZZZZZZZZZZZZZZZZZZZZZZZZZZZZZZZZZZZZZZZZZZZZZZZZZZZZZZZZZ
ZZZZZZZZZZZZZZZZZZZZZZZZZZZZZZZZZZZZZZZZZZZZZZZZZZZZZZZZZZZZ
ZZZZZZZZZZZZZZZZZZZZZZZZZZZZZZZZZZZZZZZZZZZZZZZZZZZZZZZZZZZZ
ZZZZZZZZZZZZZZZZZZZZZZZZZZZZZZZZZZZZZZZZZZZZZZZZZZZZZZZZZZZZ
ZZZZZZZZZZZZZZZZZZZZZZZZZZZZZZZZZZZZZZZZZZZZZZZZZZZZZZZZZZZZ
ZZZZZZZZZZZZZZZZZZZZZZZZZZZZZZZZZZZZZZZZZZZZZZZZZZZZZZZZZZZZ
ZZZZZZZZZZZZZZZZZZZZZZZZZZZZZZZZZZZZZZZZZZZZZZZZZZZZZZZZZZZZ
ZZZZZZZZZZZZZZZZZZZZZZZZZZZZZZZZZZZZZZZZZZZZZZZZZZZZZZZZZZZZ
ZZZZZZZZZZZZZZZZZZZZZZZZZZZZZZZZZZZZZZZZZZZZZZZZZZZZZZZZZZZZ
ZZZZZZZZZZZZZZZZZZZZZZZZZZZZZZZZZZZZZZZZZZZZZZZZZZZZZZZZZZZZ
Zzzzz.          

                (ALEX sighs. Inserts ear plugs, puts on
                noise-cancelling headphones, jams pillow on
                head. Tosses and turns fitfully for several
                minutes.

                Sighs again.
                
                Rummages around in tent, finds toothpick.
                Lights it on fire, and jams flaming firey end
                into ears, puncturing both ear drums. Grimaces
                at first, but then enjoys blissful silence,
                finally sleeps peacefully, dreaming of manta rays.)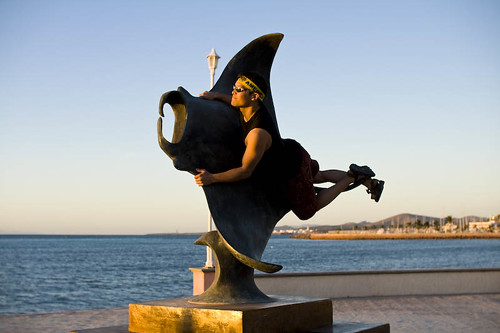 SCENE 2

                (ALEX and JESS hustling north with EL PODEROSO
                and EL IPODITO.)

                        ALEX
What is up with this bus? I'm sick of these slow-ass jerks
getting in our way. Move it! Puta madre!

                        JESS
Calmer than you are dude. Hey cool, look -- a Driscoll's
strawberry factory. I didn't know they came Mexico...

                (Bus pulls over; scores of Mexicanos wearing
                bandanas over nose and mouth, carrying plastic
                five gallon buckets come pouring out and head
                for the fields.)

                        ALEX
Those bandanas make them look like thugs.


                        JESS
I think it's to help protect them from the pesticides. I heard
that their life expectancy is 49 years.

                        ALEX
Well, I don't see anyone with guns, making them work.

                        JESS
You're right, that's true.

                        ALEX
I bet it's a fair arrangement with Driscoll's. They're
obviously not working for free, so whatever they're making
must be fair. They must be making, what, $7, $8 USD per hour?
That's what it would take to get me hunched over, plucking
strawberries for 14 hours a day.

                        JESS
Actually, they make about $2 an hour.

                        ALEX
Jaysus. What was the exchange rate again?

                        JESS
The ATM tells me about 10.8 pesos to the US dollar.

                        ALEX
Yeah, see? They're making like, 22 pesos an hour, 308 pesos a
day, right? That's not so bad! Especially considering it costs
us only about $4.50 US per person per meal to eat.

                        JESS
Um, that's 100 pesos per meal.

                        ALEX
Right, cheap!

                        JESS
How many meals do you eat per day?

                        ALEX
Um...

                        JESS
Yeah.

                        ALEX
Well, they're still saving 8 pesos a day. That's like, 240
pesos a month they can send home.
                       
                        JESS 
$21 bucks? 

                        EL IPODITO

                (Mournfully)
If you know your history,
Then you would know where you coming from,
Then you wouldnt have to ask me,
Who the eck do I think I am.

I'm just a buffalo soldier in the heart of America, 
Stolen from africa, brought to America,
Said he was fighting on arrival, fighting for survival;
Said he was a buffalo soldier win the war for America.


                        SCENE 3 

                        (Fort Collins. Night.)

                        JESS
So, where should we eat?

                        ALEX
I don't know. It's depressing coming back here for food, don't
you think? 

                (MARISCOS perform happy dance, a la Balki
                Bartoukamous and Cousin Larry Appleton.)
                        
                        JESS
You know, I'm not so hungry... But I could do La Luz. Or Whole
Foods. Or Jason's Deli. Or Taj Mahal. Or Fish. Or Austin's. Or
Sanford's. Or Pulcinella's. Or Lucille's. Or Jason's Deli. Or
Backcountry. Or Choice City. Or Taste of Philly.  Or
Bisetti's. Or Spicy Pickle. Or Elliot's Mess. Or Poppy's. You
know, whatever.

                        ALEX
You said Jason's Deli twice.

                (RABID WOLVERINES noticably ecstatic. Game of
                "who can drink more lava" spirals out of
                control.
                        
                RABID WOLVERINE #4 collapses, on fire. Dead.


                Other RABID WOLVERINES nervous. Run off stage
                left.

                RABID WOLVERINE #4 decomposes rapidly, turns
                into noxious cloud of odor, exits stage via
                door labelled JESS' ASS.)

                        ALEX
Oh. My. God. I can't believe what died in your ass.

                        JESS
I'm not right! But anyway, where can we eat? I'm starving!

                        ALEX
Let's go somewhere where they serve salad.

                        JESS
JASON'S DELI! I love their nuts!

                        EL IPODITO
Letting the days go by/let the water hold me down
Letting the days go by/water flowing underground
Into the blue again/after the moneys gone
Once in a lifetime/water flowing underground.

Same as it ever was...same as it ever was...same as it ever was...
Same as it ever was...same as it ever was...same as it ever was...
Same as it ever was...same as it ever was...

                (ALEX and JESS speed off into the night.)

                (Curtain drops.)

                (fin.)